The Sims 3 Store: Free Stuff
June 5, 2011 in News, Ramblings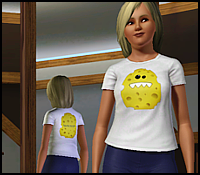 After a few months of inactivity, we're kind of back with more sims things.  Let's start with some information about free stuff at the very expensive The Sims 3 Store. For more information, also visit this forum thread at the official TS3 forums.
It's the new thing for games to add content through online features. TS3 has its own store for furniture, clothes and hairstyles. And it costs extra money. It's not enough to spend money buying a game, you have to have the opportunity to spend even more money to make your game fun to play.
Fortunately, EA understands that most of their playerbase has no income, and is dependent on whining to parents to get some money for simpoints. There are a few free gifts from the store. It's just to give your 14-year old daughter more reason to hate you for not buying virtual furniture for a game she will stop playing when she meets her first love interest. But still, it is free stuff. No need to look a gift horse in the mouth.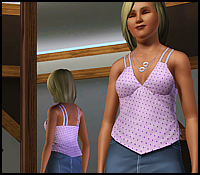 My favourites
The Lord Sponge t-shirt and the Lord Sponge computer: The computer is cheap and looks cheap too.  The t-shirt is one of my favourite things to use as sleepwear. It looks like the shirts I sleep in. Another is the Deco Tank top for women.
Least favourite
The Halloween stuff, especially the cat. First of all: I don't 'do' halloween. Second, the cat just looks crappy. But the lamp is surprisingly funny to use.
There are also a few items you get when you register your game. These are usually not worth the time it takes to download them, though. Especially the ones for Late Night and Generations.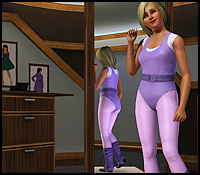 And with the expansion pack Generations you can unlock items as 'achievement bonuses'. These are actually quite nice, and it takes about 1 day of playing to get to the 200 memories you need to upload. You get 7 items in total, from a grill, to some outfits.
The Sims 3 Store is far too expensive to my tastes, so I always keep a look out for free stuff and I keep my eye on the Daily Deal. Your game does not improve or get more interesting the more stuff you put in it, so sticking to free stuff is just as good as spending a fortune on virtual goods.