Sims Soap Opera Part #2
September 3, 2010 in Sims Soap Opera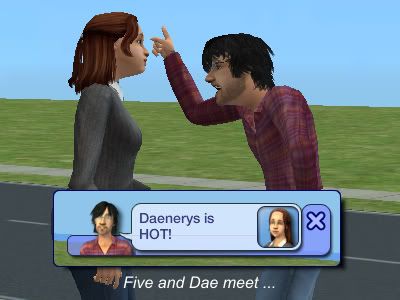 Five is new to the neighbourhood but eager to meet new people. He loves meeting new people. Fortunately his neighbour Daenerys is youngish, attractive and apparently single. Not that Five's mind would see being taken as an obstacle in his newest conquests, but still, it makes things easier.

Daenerys is immediately struck by Five's handsomeness and his logical mind. Very nearly Vulcan, her inner-trekkie giggles. She decides to invite him over for some late night supper. It is then she realises she has no lamps at all. But the light of their shining attraction to each other lights the way to their love…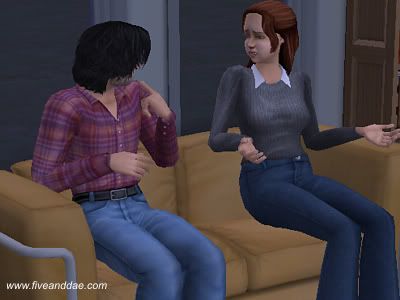 "Do I have mustard in my stubble?" asks Five. Dae shrugs. The mention of mustard does make her realise it is time to make dinner. As she goes into the kitchen area she feel Five's eyes on her. On a certain part of her anatomy, she is sure. She wiggles. Washing her hands she smiles over her shoulder. "Dinner is ready…"
The taste of Daenerys's home cooking is making Five's heart beat faster. He tries t ask her for the recipe, but Dae just smiles mysteriously and keeps eating, licking her lips suggestively. But Five is too engrossed by the food to notice.
"Oh, Five!" Daenerys sighs, after the food is gone. "You have quite an appetite!"
Five looks at her adoringly. "You know that the way to a man's heart is through his stomach," he growls. "Maybe you can come and help me cook tomorrow at my place. I think I can make it worth your while…"
Daenerys sighs happily and feels herself being more an more attracted to this man. And maybe he has lamps in his house…