Sims Soap Opera Part #4
September 3, 2010 in Sims Soap Opera


One quiet morning, while Five and Dae were having their usual pillowfight, Spike decided to walk out and meet the new neighbour, Mormegil. When Dae saw Spike walking towards the new neighbour's front door, she dropped the pillow, got hit on the head by Five (with a pillow) and ran to join Spike.

"Going to see the new guy, Spike?" she asked happily.

"Yeah, I want to check out if he is decent enough. I saw them unload a guitar, so maybe he is one of those loud musicians, you know," answered Spike in an unusual long way.
Dae smiled even brighter. A guitar! She had dreamed of playing a guitar ever since she was a little sim.
Spike and Mormegil were getting along great. They shared a sense of humour and lots of other things. Dae was looking around the house until she felt sure enough to handle The Guitar. No one was paying attention to her when she whispered "Can I have a go, Morm?"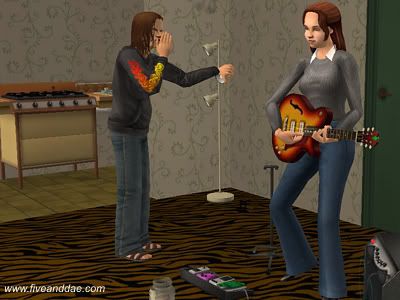 But as soon as she tried to coax some music from the strings, Mormegil turned around and started booing her. "What the hell are you doing with my guitar?" Dae however was oblivious and continued playing. Mormegil didnt want to snatch the guitar from her hands by force, but he wasnt happy…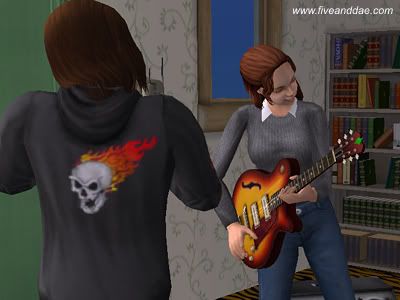 Dae's miserable music was starting to make his skull hurt…
Mormegil was sure that Dae would at some point leave, but it wasnt until very late when Dae put down the guitar. "Thanks, Morm, I'll be sure to visit you more often, so we can do music stuff together!"
Dae had no clue about music at all, as far as Mormegil was concerned and he tried to come up with excuses to not have Daenerys over ever again. His music soothed his ears as he played on well into the early hours of dawn…